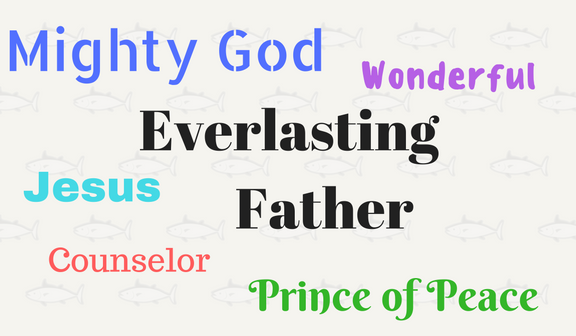 Someone asked me the other day about all the names of Jesus. It got me to wondering how many name there actually was for the King of kings. According to allaboutjesuschrist.org some Bible scholars have located over 700 names for Jesus Christ. WOW! That is a lot! There are so many but I want to just focus on a few in this Blog and maybe some day in the future I will do a sermon series on the many names of the Son of God, our Savior, the Lord, the Redeemer, the Light of the World, the Lamb of God.
The names I want to concentrate on in this blog are found in Isaiah 9:6-7.
6 For unto us a Child is born,
Unto us a Son is given;
And the government will be upon His shoulder. And His name will be called Wonderful, Counselor, Mighty God, Everlasting Father, Prince of Peace. 7 Of the increase of His government and peace
There will be no end, Upon the throne of David and over His kingdom, To order it and establish it with judgment and justice
From that time forward, even forever. The zeal of the Lord of hosts will perform this. Isaiah 9:6-7 NKJV
Wonderful – This root of this Hebrew word indicates something that is a wonder, a marvel and it expresses the extraordinary aspects of God's dealings with His people. When it references Jesus it points to the hope that He will continue to do the marvelous acts of God.
Counselor – This means to give advice. Jesus is some0ne whom we can trust to give us the best advice and directions for life. His desire is to counsel us through life so that we can make decisions based upon God's will.
Mighty God – When I think of Mighty God a plethora of thoughts come through my mind. Our God is powerful and His power is transferred to His Son, Jesus Christ. He is powerful to over come the enemy. He is powerful to save. He is powerful to heal. He is powerful to transform. He is powerful to revive. He us powerful to deliver. He is the Lord, strong and mighty and nothing can defeat Him.
Everlasting Father – This may seem odd, calling the Son of God the Everlasting Father, but remember what Jesus said in John 10:30? He said, "I and the Father are one." In their nature, perfection, and power God and Jesus are one and they are everlasting. There is no end to God the Father, God the Son or even God the Holy Spirit. They will last for all of eternity. Eternity is a long time and we are promised that Jesus will be with us forever. I always say that my love for my wife will last forever and always. One day I will die, my love for Debbie will be no more, but God's love, protection, blessings and power will never go away or die because He is everlasting.
Prince of Peace – If there is one thing this world needs is peace. Some one, some where, at any time is always needing peace. We live in a world that has been messed up for a very long time. We need peace and that peace comes from Jesus Christ. When you consider all the problems and trials that people face today it can be very frightening. But when you discover the One who brings peace to every situation, a whole new life is open to you. What is Peace? According to Webster's dictionary, peace is a state of tranquillity, quiet, calm, freedom from civil disturbance, A state of security – being secure within a community, freedom from oppression, strife and disorder. In harmony in personal relations. Untroubled by conflict, agitation or commotion. In Jesus we can have all of that.
I trust that we have all learned something by looking at some of the names of Jesus and I hope that you are trusting in Him today!